The time that you can enjoy both upstairs and downstairs of your home, will have a lot to do with the quality of your life. Getting up the stairs is no joy as you become a senior, elderly citizen. Stair Lifts are so easy to use, you are going to wonder how you ever waited so long to pamper yourself.
Before you buy an electric stairway staircase climber for residential home indoor or outdoor exterior use, compare price, quality, guarantee, service and installation. Then call ElectroEASE Stair Lifts, you'll be glad you did
Bruno.com Indoor and Outdoor Straight Rail and Curved Rail Stairlifts
SRE-2750 Electra-Ride LT Gallery
SRE-1550 StairLift Stairway Staircase Lift
Model SRE-1550
Electra-Ride II
Indoor Straight Rail Stairlift
---
Bruno.com SRE-2010 Elite Outdoor Exterior Lifter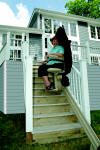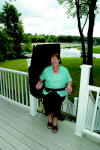 Model SRE-2010E
Electra-Ride Elite
Outdoor Straight Rail Stairlift
Bruno.com's Electra-Ride Elite Outdoor stair lift is reliable, safe, durable and designed to withstand the elements. Don't compromise your independence, inside or outside your home. An outdoor stair lift of this quality allows you to navigate the stairs outside your home with confidence and ease – at any time of year!
Bruno.com VPL3100 Wheelchair Elevator Vertical Wheelchair Scooter Mobility Wheel Chair Platform Lift
With the introduction of the new

Vertical Platform Lift (VPL-3100), Bruno.com Independent Living Aids

has broadened the Accessibility Division's product line in a new direction – straight up! Designed and built by Bruno.com's master craftsmen, the

VPL-3100 Vertical Platform Lift

provides a rugged, reliable and affordable solution for individuals and caregivers who need assisted access to a porch or deck.
Bruno.com Stair Lifts
If you need a custom curve stairway lift, we can highly recommend the Bruno.com Electra-Ride III Curved Rail. We sell, deliver and install. Bruno.com stair lifts make getting up and down the stairs, easier, at the simple touch of a finger. ElectroEASE is a family owned and operated company since 1964. We are members of the BBB with an A+ Rating. We have made "Your 100% Satisfaction Our Only Goal Since 1964."
We specialise in Bruno.com ndoor Stair Lifts, Outdoor Stairway Climbers and Custom Curve Staircase ChairLifts.
We offer Next Day Delivery and Installation in most areas on the Bruno.com and Indoor and Outdoor Residential Home Straight Stairway Stair Lifts.
Usually Custom Curve Stair Lifts take between one week and six weeks for installation.
Bruno.com Stair Lifts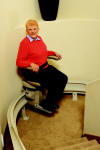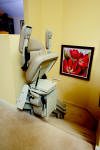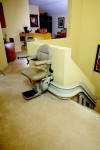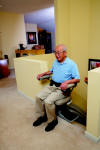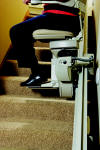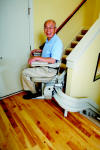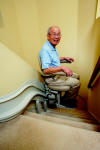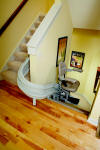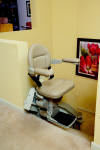 Bruno.com's Electra-Ride III Curved Rail model offers a safe and durable design that installs on virtually all curved stairways!

Leading-edge technology assuring complete stability as you move up and down the stairway – even during power outages, and inside turns offer the flexibility of mounting the curved stairlift on either side of the staircase.

Curved staircases are an elegant and prominent part of your home, don't allow them to compromise your independence. A curved stairlift by Bruno.com is the solution!
Bruno.com STAIR LIFTS - Call for Lowest Cost on All Models 800-824-3145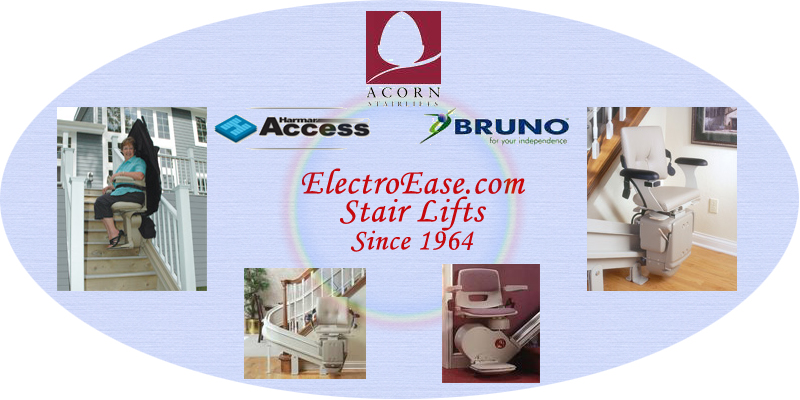 Wheelchair Elevator Vertical Platform Lift Headquarters - SERVING ALL OF ORANGE COUNTY: Aliso Viejo Anaheim Brea Buena Park Costa Mesa Cypress Dana Point Fountain Valley Fullerton Garden Grove Huntington Beach Irvine La Habra La Palma Laguna Beach Laguna Hills Laguna Niguel Laguna Woods Lake Forest Los Alamitos Mission Viejo Newport Beach Orange Placentia Rancho Santa Margarita San Clemente San Juan Capistrano Santa Ana Seal Beach Stanton Tustin Villa
BBB Dexknows Cylex YouTube Adjustable Beds Google Local Map bing Orange County City Search Manta Yelp Yahoo Superpages City Data Local Yahoo Yellow Pages showmelocal switchboard Judysbook Hotfrog Linkedin Mojo Kudzu wordpress Orange County Register YellowBot Switchboard MagicYellow Google
Maps Orange County
12557 Harbor Blvd., Garden Grove CA 92840
2 miles South of Disneyland, 1 mile North of the 22 frwy, across the street from McDonalds
Open Mon. thru Sat 10-5. SERVING ALL AREAS 800-824-3145
Aliso Viejo Anaheim Brea Buena Park Costa Mesa Cypress Dana Point Fountain Valley Fullerton Garden Grove Huntington Beach Irvine La Habra La Palma Laguna Beach Laguna Hills Laguna Niguel Laguna Woods Lake Forest Los Alamitos Mission Viejo Newport Beach Orange Placentia Rancho Santa Margarita San Clemente San Juan Capistrano Santa Ana Seal Beach Stanton Tustin Villa